Source:South Australian Heritage Office
http://www.environment.sa.gov.au/files/600342fe-a096-45f5-bfd6-9e2900d01117/burra_mines.pdf
Burra's built environment is clearly derived from the two historical phases of its development. The mining phase from 1845-1877 gave rise to the mining and industrial architecture at the Burra and Bon Accord mine sites, and provided the impetus for both company and private housing, much of which was timber and has not survived. Many of the stone cottages that remain are based on company housing in Cornish towns, and are some of the oldest buildings remaining in Burra. The architecture of this era mostly followed the 'Old World' models, with designs coming unaltered from Europe. Many of the early structures, for example, do not have verandahs. One important element in Burra's architecture is the distinctive use of rich, local bluestone that gives a unifying effect to many buildings, regardless of their form or age.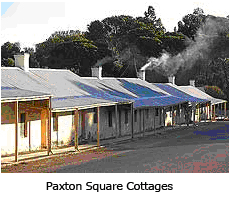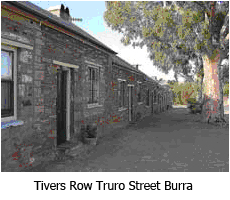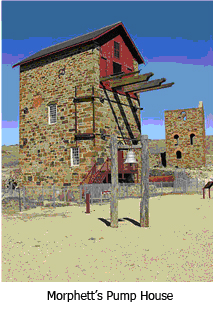 The Mine site: The group of 11 State Heritage Places also includes two other stone structures that are the most dominant built features of the site.
The former Morphett's Pump House (1858) originally housed an 80inch diameter Cornish beam pumping engine and a shaft plunging to 600 feet depth. It was erected by Cornish stonemasons Thomas Paynter and Ambose Harris. The engine commenced pumping in1860 and ceased in 1877.The engine house was reconstructed and the shaft re-timbered in 1986, and the original bell reinstated at the top in 1988. The building now houses an interpretive display and museum, and provides access to a miners tunnel and to other ruins in the open-cut area. – SAHR 10053 The other is Peacock's Chimney (1857) was constructed of stone and bricks.