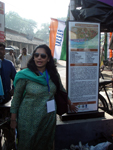 Aishwarya Tipnis and her outstanding commitment to French Heritage in India rewarded with a "Chevalier dans l'Ordre des Arts et des Lettres"
Aishwarya next to a plaque in the public square of Chinsurah,
erected by a local initiative and sponsored by the Dutch Embassy,
highlighting the shared heritage all over the city.
[photo: Benedict Goes]
Tour and Symposium:
Shared Built Heritage Bengal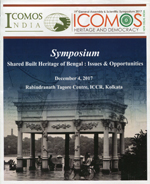 Dates: 1st to 8th December 2017
Practical Guide for Participants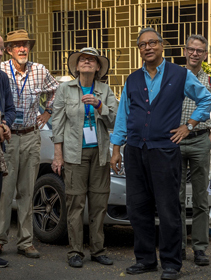 [Photo:Deepanjan Ghosh]
On 5 December the ISC Shared Built Heritage study tour of West Bengal enjoyed the delights of the South Kolkata Art Deco conservation area, led by Jawhar Sincar. Why did a 1902s European architectural style find so many takers in the 1950s and 1960s Kolkata? To answer that question, Click Here.

Contributions from West Bengal Tour Participants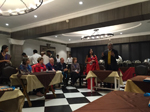 SBH Study Tour welcome and dinner in the board room of The Calcutta Swimming Club (1 Strand, Dalhousie, Kolkata). The Club is the oldest in India, began in 1887 although this building dates from c1923. [photo: Gwynn Jenkins]
For more of the contributions, Click Here.
West Bengal Study Tour 2017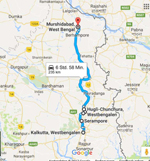 Almost a century after Vasco da Gama landed on the West Cost of India (1498), the Europeans started making inroads in Bengal. Using Hooghly (also known as Ganga or Ganges) as the main source of navigation, they started making inroads in Bengal.