ICOMOS ISC on Shared Built Heritage
2014 Study Tour and Symposia in South-East Asia
joint report by
Sue Jackson-Stepowski (ISC SBH Vice President) (Australia)

and Claus-Peter Echter (CIVVIH Executive) (Germany)
The ICOMOS International Scientific Committee on Shared Built Heritage (SBH) organised a Study Tour, Symposia and series of Round Table meetings in South East Asia between 13 and 24 April 2014. Historic cities visited were UNESCO World Heritage "Melaka Straights" jointly inscription of George Town and Melaka in Malaysia, and Bandung in the Java highlands of Indonesia.
In addition to representatives from each host country, delegates came from Australia, Germany, China, Japan, Poland and Canada. The joint members of ISCs SBH and CIVVIH who participated were Claus-Peter Echter, Siegfried Enders and Sue Jackson-Stepowski.
The South East Asia cities' visits were organised in cooperation with ICOMOS Malaysia, State of Malaka, State of Penang, City of George Town, ICOMOS Indonesia and the City of Bandung, as assisted by several 'not-for-profit' associations.
As always we had special access to sites normally inaccessible to the general public - viewings inside premises undergoing restoration (discussion on the how, why, materials and problems), inner workings of religious places, skilled craftmen's workshops, and adaptive re-used buildings to many and varied new uses. We experienced local foods, tea ceremonies, elegant dinners and participated in local activities. Particular attention this time focused upon integrating arts, site interpretation and cultural programmes as part of historic precincts sustainability and how to engage younger generation and use start-up small businesses. Walking around the historic precincts with our local colleagues provided wonder insights that normally a casual person would be oblivious.


World Heritage Cultural Properties and Preventive Monitoring
Dr. Claus-Peter Echter
Member of the Bureau of ICOMOS SBH - Germany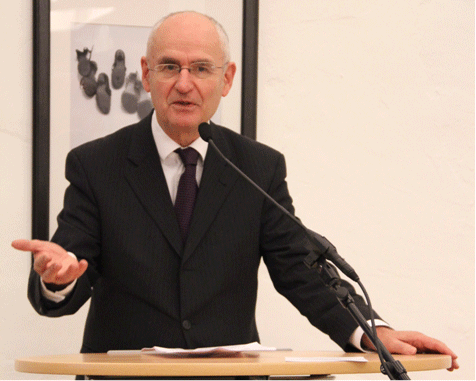 1. ICOMOS and Preventive Monitoring
One of the most important tasks of ICOMOS within the framework of the World Heritage Convention of 1972 is the work as an advisory body to the World Heritage Committee and UNESCO, in particular the evaluation of monuments and historical sites which are inscribed in the World Heritage List or eligible for inscription.The mandate and the role of ICOMOS as an advisory body result from articles 8 (3), 13 (7) and 14 (2) of the World Heritage Convention in connection with the Paragraphs 30, 31 and 35 of Operational Guidelines (OG). The specific role of ICOMOS in relation to the Convention is described in Paragraph 35 and "includes: evaluation of properties nominated for inscription on the World Heritage List, monitoring the state of conservation of World Heritage cultural properties, reviewing requests for International Assistance submitted by States Parties, and providing input and support for capacity building activities."
Just as article 5 of the World Heritage Convention commits the States Parties to take care of the protection and conservation of the entire cultural and natural heritage within their territories and not only of the individual World Heritage sites, the National Committees of ICOMOS have also a special responsibility for the historic buildings and sites of their country, of course in close cooperation with all institutions that deal with protection and conservation. Under these circumstances, based on the different experiences countries individual ICOMOS National Committees have developed special initiatives for the monitoring of the state of conservation of world heritage sites in their countries. Furthermore in the ICOMOS World Report Heritage at Risk, which has been published since the year 2000 they have pointed out the imminent dangers for monuments ensembles. All in all, it is about a programme of continuous observation that can be called Proactive or Preventive Monitoring. It is beeing further developed by Gustave Araoz, President of ICOMOS International, within the framework of the Global Monitoring Initiative. Thic concept of Preventive Monitoring refers not only to indidual World Heritage sites but to the entire cultural heritage: ICOMOS acts a sort of general "monument watch" observing the state of the historic buildings and sites worldwide.
The obligation of the States Parties to do Periodic Reporting results from article 9 of the World Heritage Convention, together with chapter V of the Operational Guidelines[1]. Indepently of the Periodic Reporting the World Heritage Centre is to be informed within the framework of the Reactive Monitoring (OG §§ 169-176) about exceptional circumstances or work actions which hat could affect the Outstanding Universal Value of a World Heritage Site.[2]
Reactive Monitoring is according to the Operational Guidelines "the reporting ... on the state of conservation of specific World Heritage properties that are under threat. To this end, the States Parties shall submit ... to the Committee through the Secretariat, specific reports and impact studies each time exceptional circumstance occur or work is undertaken which may have an effect on the state of conservation of the property."[3]
The Reactive Monitoring requires in serious cases, a panel of experts and can lead, – as in the previously rather unique case of Dresdner Waldschlösschenbrücke – to deletion from the World Heritage List. In the conservation status of each World Heritage Site, however minor or major problems and threats can arise, which are not detected in time by the competent authorities. In particular, in extensive world heritage sites such as city ensembles, cultural landscapes or cultural routes, values that define the World Heritage can be affected by an immense number of plans and projects. This concerns an abundance of sometimes highly acute threats to the historic structures, that went unheeded in the Periodic Monitoring carried out in intervals of some years and also can hardly be resolved in time in the context of a Reactive Monitoring. [4]
Regarding the Periodic Reporting on the implementation of the World Heritage Convention[5] the guidelines postulate: "States Parties are
---
[4]Cf. Preventive Monitoring Erläuterungen – Preventive Monitoring als Aufgabe von ICOMOS: www. icomos.de
requested to submit reports ... on the legislative and administrative provisions they have adopted ... including the state of conservation of the World Heritage properties located on their territories."[1] The purpose of Periodic Reporting is to provide an assessment as to whether the Outstanding Value of the properties inscribed on the World Heritage List is beeing maintained over time and to provide up-dated information about these properties to record the changing circumstances and state of conservation of these sites.[2]
However practice has shown, that the handling of the monitoring mandate in accordance with Periodic Reporting and especially Reactive Monitoring do not always have the desired results, especially in acute problematic cases, where "the whole procedure proved to be too slow. ... Therefore in this wide area of conservation problems a continous proactive observation has to take place, i.e. Preventive Monitoring, which takes into consideration the more general conservation concerns and the special criteria of the World Heritage justifying the Outstanding Universal Value. As far as the World Cultural Heritage is concerned, this task could only be tackled by the advisory body ICOMOS and its worldwide net of members organised in more than 150 national and international committees. The corresponding mandate can be deduced from the above mentioned articles of the World Heritage Convention together with the mandate to be found"[3] in § 31d of the Operational Guidelines "to monitor the state of conservation of World Heritage properties"[4]
---
For more details of specific Meetings/Seminars see SBH Gatherings Menu Tab.

a. Annual meeting:
plan and schedule annual meetings, preferably in conjunction with other heritage gatherings
[ 2009 annual meeting in Gdansk and Marianka, Poland, in cooperation with ICOMOS Poland, Gdansk University and local stakeholders;
2010 annual meeting in Paramaribo (best Febr – April), Surinam, dates to plan, cooperation with former ICOMOS National Committee of Suriname ISC, Wood and/or Cultural Landscapes;
2011 annual meeting in South-Africa, place and dates to plan, cooperation with ICOMOS South Africa, ISC Cultural Landscapes]
another meeting in Paris in connection with the General Assembly.
2012 annual meeting in Beijing, China, with workshop and symposium in Guanyin (Xiamen), Wuhan and Beijing
in cooperation with ICOMOS China.
2013 annual meeting in Havana, Cuba, together with a joint seminar on fortification with ICoFort and ICOMOS Cuba.
2014 annual meeting in Melaka, George Town (Malaysia) and Bandung (Indonesia) together with workshops and study tours in cooperation with ICOMOS Malaysia and ICOMOS Indonesia and local universities and stakeholders.

b. Other meetings
identify other meetings within the ICOMOS agenda and other heritage agendas in which SBH can contribute
[- 2009 June: scientific SBH meeting in Sri Lanka, in cooperation with ISC Cultural Tourism, local government and stakeholders and Dutch organizations;
- 2010 ISC SBH held a Bureau meeting and a little workshop in Dublin, Ireland concurrent with the Advisory and Scientific Council meetings. In cooperation with ICOMOS Ireland, Business meetings in Bali, Indonesia, Bangkok, Thailand, Tokyo, Japan
- 2011 Cooperation with ICOMOS South Korea, mAAN, TICCIH and Universities for a conference on industrial heritage in Asia. ISC SBH' part: shared industrial heritage in Asia,
- Business meeting with ICOMOS Brazil in Florianopolis
- 2012 cooperation with ICOMOS Philippines and ICTC: International committee on Cultural Tourism on a conference in Manila and Vigan
- 2013 symposium in Wuhan, China, founding of a research institute on shared built heritage at China Central Normal University and Huazhong University of Science and Technology, Wuhan
- 2014 study tour and workshop in Melaka, George Town Malaysia and Bandung (Indonesia)
c. Cooperation with other ICOMOS Committees
 identify committees to cooperate with in annual meetings or other scientific activities
[ contacts are made with Fortifications and Military Heritage, Cultural Tourism, Wood, Cultural Landscapes and CIVVIH-Historic Towns]
 communicate with the board of the ISC's and Scientific Council on these activities
d. World Heritage Advise
 provide advisory services to the ICOMOS WH Panel through the membership, by announcing the possibility to ICOMOS Paris
.desk reviews on applications concerning a shared aspect in the OUV by members of the committee
e. 17th ICOMOS General Assembly
 develop contributions that support the scientific program of the next GA
 develop initiatives in order to support general ICOMOS goals, such as the Climate Change theme (2008-), Social Change theme (2010)
The 4th ICOMOS-Wuhan Crossover Forum (2015)
From 31 October to 4 November 2015, ICOMOS-WRCSBH organized the 4th
ICOMOS-Wuhan Crossover Forum on "Creative Cities & Cultural Heritage" in
cooperation with the Wuhan Municipal Government, Hubei Provincial Administration
of Cultural Heritage and Wuhan University. 15 experts from ICOMOS ISC-SBH and
other ISCs as well as keynote speakers from relevant local and national sectors
delivered inspiring speeches on the relationship between heritage conservation and
creative development of cities. Different cases and practice from such countries as
Germany, U.K and Australia as well as Chinese cities as Ningbo, Macao and Wuhan
were presented while the concepts of IBA and HUL were introduced and discussed as
inspirational approaches to blueprint sustainable development of cities with
indispensible consideration of cultural heritage. Apart from the keynote speech
session, the ICOMOS experts also contributed to the "World Heritage Experts
Workshop" giving lectures to college students and faculty members. Add to the
repertoire in the 3rd Crossover Forum in 2014, the Crossover Dialogue of this year was
held between Prof. Feng Tianyu and Dr. Pierre Laconte talking about the encounter of
the West and the East.
Broken Hill Mosque (also known as Mohammedan or Afghan Mosque) [1908] Broken Hill NSW
Source: NSW Heritage Office web site: http://www.environment.nsw.gov.au/heritageapp/ViewHeritageItemDetails.aspx?ID=5051563
Statement of Significance : The Broken Hill Mosque is of State significance for its rarity as the first mosque built in NSW and the only surviving Ghantown mosque in Australia. Constructed in 1887, the mosque provides rare evidence of the pioneering presence of the 'Afghan' cameleers in outback NSW during the nineteenth and early twentieth centuries. It embodies, in built form, evidence of the historic presence of Islamic culture in Australia, otherwise rarely found in NSW. The Broken Hill Mosque is of social significance at a State level for its religious associations for the Islamic community in NSW and Australia
Description: The mosque is constructed corrugated iron sheets and wood painted rust red (which is the colour of the original mosque and a typical colour of Broken Hill). It is in fair condition. The adjoining anteroom is also constructed of the same materials. The mosque sits on a dusty site with an avenue of date palm trees which were planted in 1965 by the Broken Hill Historical Society. At the entrance of the site are two olive trees which were planted by the Islamic Council of NSW in December 2008.